Bookless Motors Price:
from £375 inc VAT

The Scatterbird Mark 3 Bird Scarer is a sturdy, purpose built bird-scaring gas gun designed specifically to meet the needs of the farmer.

It features a sophisticated, flexible, yet simple to operate control system allowing you to program the frequency of the bangs and the interval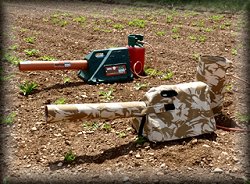 between them.
The Scatterbird can be set for an automatic start at dawn and an automatic shut-off at dusk. Optional adjustable legs raise the unit off the ground and allow the full force of the "bang" to be heard with maximum

effect.
Use of the optional internal battery is recommended to keep the wiring away from vermin and prevent flood damage to the battery and wiring.
Features: Robust low maintenance design ~ Rust-proof and weatherproof ~ Automatic dawn start-up and dusk shut-off ~ Reliable electronics ~ Uniquely effective in high winds ~ Simple to operate with adjustable firing times and interval control.
Click Here for Full Product Details
(Opened in a separate window)
Bookless Motors: From £375 inc VAT
Contact: Darren Smith (Storeman), Bookless Motors:
Tel: 01289 388208 or Click Here to send an E-mail
********************